Golf Cart Rentals - San Pedro, Belize
RELIABLE GOLF CART RENTAL DURING YOUR BELIZE VACATION
Experience the best of San Pedro, Belize with Enterprise Golf Cart Rentals and lowest price guarantee. As a trusted authority in golf cart rentals, we offer well-maintained custom carts and exceptional customer service. With our affordable prices, we provide the winning combination for convenient transportation on Ambergris Caye.
At Enterprise, we make your rental experience seamless. Simply book your golf cart, and we will have it delivered to you upon your arrival at the San Pedro Airport (Tropic Air or Maya terminals), one of the water taxis, or any hotel, resort, or Airbnb on Ambergris Caye.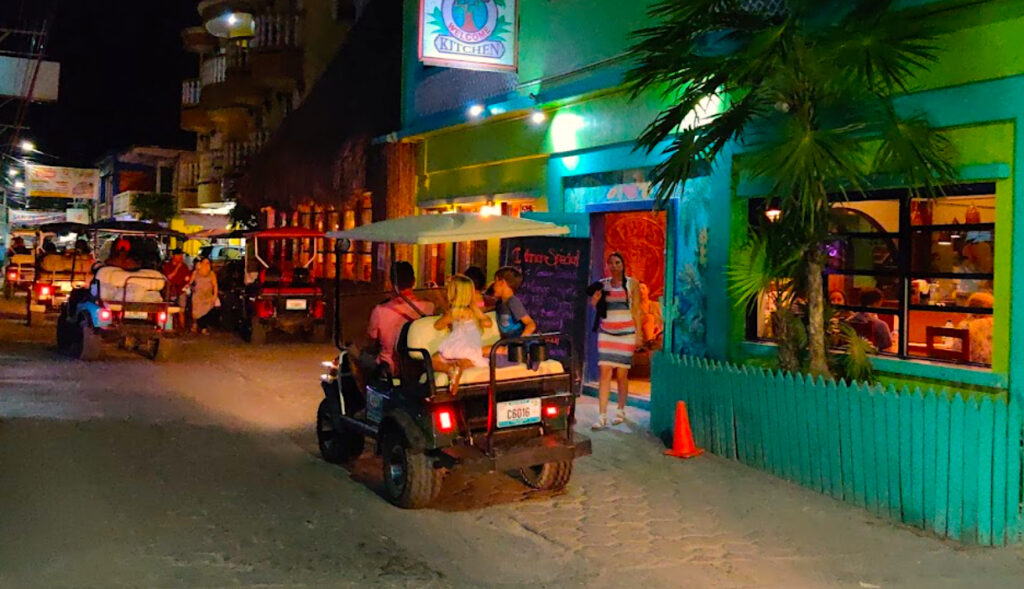 Benefits of Renting from Enterprise Golf Cart Rentals
SAN PEDRO GOLF CART RENTAL
Rent a golf cart for all occasions and your adventures on Ambergris Caye. Travelling solo or in a wedding party, we provide a golf cart for function. Looking to invest in real estate for your future? A retiree on the hunt for that perfect piece of Caribbean beachfront property. Our rental service will get you there and beyond. Travellers love to get around and experience Ambergris Caye on island time.
Great Rates, Reliable Ride and Amazing Customer Service Guarantee!!
SAN PEDRO GOLF CART RENTAL - EXPLORE AMBERGRIS CAYE WITH EASE
Whether you are traveling solo, attending a wedding, or searching for the perfect beachfront property, Enterprise Golf Cart Rentals has the right cart for every occasion. Explore Ambergris Caye at your own pace and immerse yourself in the island's unique charm.
Discover the Benefits of Renting a Golf Cart:
Freedom and Convenience: A golf cart gives you the freedom to explore the island's hidden gems, such as Secret Beach and the vibrant local bars and restaurants.
Secure Locks: Our carts come equipped with safety locks, ensuring peace of mind when you park.
Low-Cost Rental Rates: Enjoy the freedom to roam starting at just $24 USD per day for 4-seaters and $55 USD per day for 6-seaters. We also offer weekly and monthly rental options.
Included Maintenance: Longer-term rentals include a cart wash and vehicle maintenance.
Choose Enterprise Golf Cart Rentals for Great Rates, Reliable Rides, and Amazing Customer Service!
Golf Cart Rental Service Customer Reviews
We Are Honoured By Those Who Used Our Services and Wrote a Review.
They are the best carts near airport and water taxi terminal highly recommended free pick up and drop off anytime and anywhere very recommended and competitive

Mario Requena


July 11, 2022
If you are looking to rent a golf cart in San Pedro, Belize this is the place! The customer service is amazing. The whole process was extremely smooth! Mostafa was very quick to respond to any email I sent. I even asked for a couple more hours and he had no problem with it. When I come back, I will definitely use Enterprise Rentals!

morgan Powell


May 22, 2022
Freedom to explore is $30USD per day for 4 seaters and $55USD per day for 6 seaters. Weekly and monthly rental options are also available.
Included in the longer term rates are: a cart wash and vehicle maintenance.
*You must have a valid driver's license to legally drive on the island or anywhere in Belize.
4 SEATER CART
Customized for Your vacation
25
%
OFF ADVANCED BOOKING
6 SEATER CART
Customized for Your vacation