Golf carts are the most common way of getting around Ambergris Caye and they definitely enhance the tropical island feeling. Imagine the breeze in your hair and feeling free to do as you please in your Enterprise golf cart rental. What's in store? A scenic drive or a trip to your favorite beach bar for lunch? The possibilities are endless and our rates are among the lowest in town.
Driving Advice
1. Avoid red curbs and taxi zones. These are designated no parking areas and you will get a ticket parking there.
2. Watch for oncoming traffic depending where you are driving, it is not uncommon for someone to drive into oncoming traffic to go around a pothole or another vehicle.
3. While it may be fun to let your kids "try" driving, you must be 18 or older and have a valid license or international driving permit to rent or drive a golf cart.
4. Drive Safe do not over stuff your four-seater or a six-seater golf cart with too many people. If you are transporting luggage or have backpacks, make sure they are safe and do not bounce off your cart.
5. Links to directions for both gas stations so you can easily fill up before starting your next adventure. Centrally located gas station on Caribeña Street in town. South of town on the corner of Sea Grape Drive and Blake Street.
Follow us on social media to see all the fun places you can go in your golf cart – Instagram, Facebook, and YouTube.
Are you ready to take a scenic drive and relax at Secret Beach?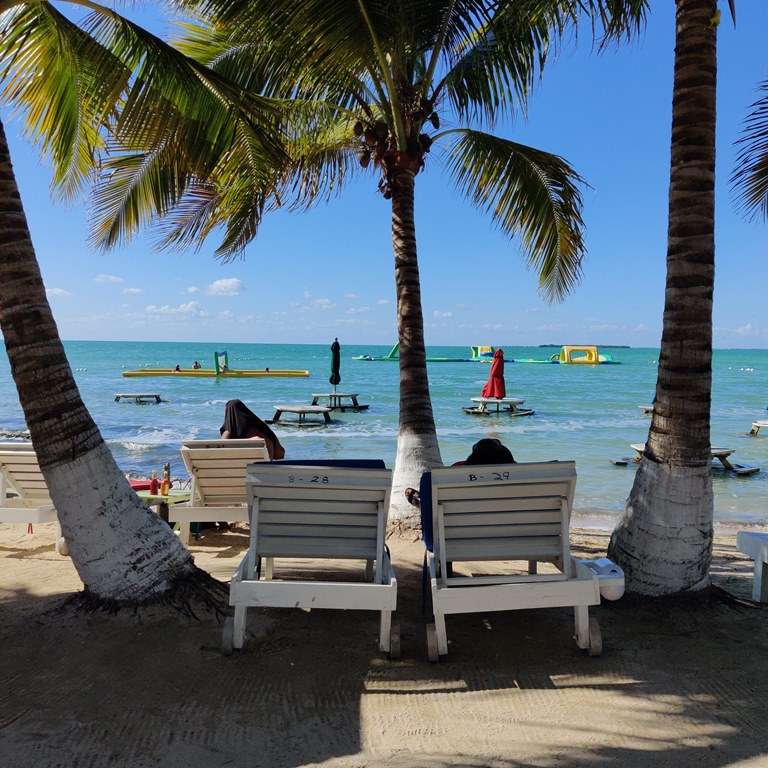 Enjoy a nice sunset drive through north Ambergris Caye to Secret Beach area.
Peaceful sunset on the road to Secret Beach.